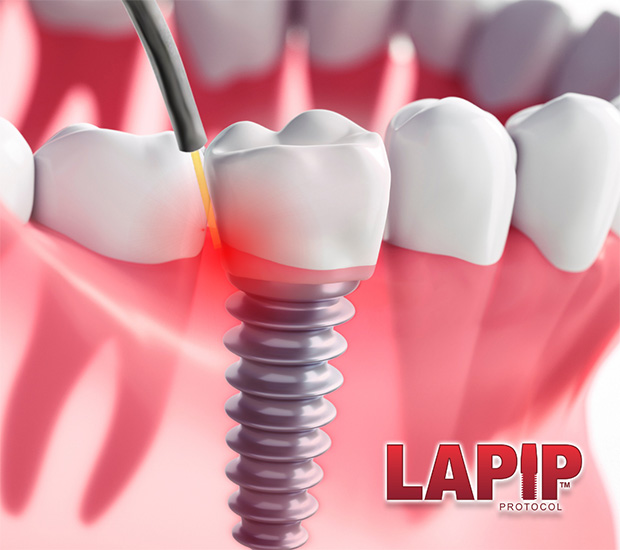 Peri-Implantitis and LAPIP Treatment
Summit, NJ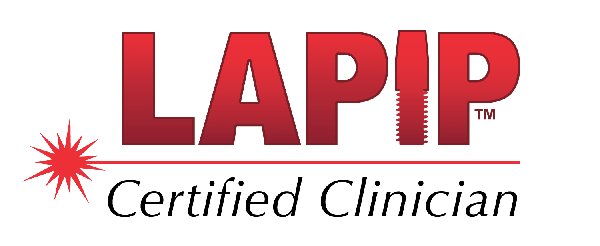 What is Peri-Implantitis?
Peri-implantitis begins as a bacterial infection that forms around dental implants. In many ways, it is similar to gum disease in that it causes damage to the gums and teeth around it. In the early stages of peri-implantitis, the symptoms can be relatively mild. You may notice inflammation and sensitivity around the gums surrounding the implant. The longer the infection goes untreated, the more serious the side effects become. Ultimately, dental implants can be lost and bone structure can be damaged if treatment is delayed or non-existent.
What to watch for after having a dental implant placed:
Inflammation: redness, swelling, or pain in the gum tissue around the implant.
Exposure or visibility of the implant threads.
Implant mobility/movement.
White discharge (pus) from within the gums around the implant. You may experience an unpleasant taste without seeing any infection.
Soreness in the jaw.
Bleeding gums.
Swollen or tender lymph nodes around the neck or armpits.
How is peri-implantitis treated?
At Summit Periodontics and Dental Implants, our long-term goal is to stop the progression of bone loss and keep your implants in place. Cleaning the infected area along with oral antibiotics can sometimes be enough to treat peri-implantitis. In some cases, an antibiotic may be applied to the implant directly.
More severe cases of peri-implantitis require the removal of the implant and bone grafting to replace the damaged bone. To do this, traditionally your periodontist needs to open your gums to fully cleanse the area of the infection. Before new bone can be grafted onto the implant, your periodontist must be confident that all of the infection can be eliminated. Most often this means strong antibiotics.
LAPIP® laser treatment for peri-implantitis:
At Summit Periodontics and Dental Implants, we offer a less-invasive treatment for peri-implantitis called LAPIP® (Laser Assisted Peri-Implantitis Protocol). This state-of-the-art laser therapy can destroy bad bacteria that causes inflammation and diseased tissue while leaving your healthy tissue intact. It can also encourage new bone growth in the area that is treated.
LAPIP® treatment is a patient-friendly solution, and studies show that 95% treated with LAPIP have displayed significant improvement. LAPIP gets rid of the infection and actually in many cases, it can help the bone to grow back.
Dental implants are a financial investment so it is important to take care of your oral health and avoid peri-implantitis. Dr. Maloney is dedicated to giving you the best chance at your dental implants lasting as long as possible.
What are the benefits of Treating Peri-Implantitis with the LAPIP®?
Most patients only need one appointment
Less pain and an easier recovery than other surgical options
Kills bacteria without harming healthy tissue
Minimizes gum recession for a confident smile
100% natural – no foreign materials or growth factors used
Safe for medically compromised patients like those on blood thinners, or those with diabetes
No cutting and no stitches leads to less recession
No bone grafting (the laser stimulates bone regrowth)
Related Posts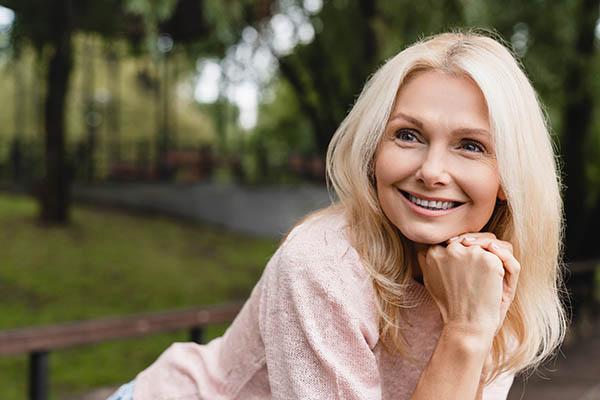 Laser dentistry is a popular way to perform certain procedures such as gum grafting or reshaping and cavity removal. Of course, the main benefit is less pain; however, there are a few other safety benefits that come with using dental lasers. Keep reading to find out more!Below is an overview of the safety benefits that…